Side Effects May Include Happiness
How To Trade Your 9-To-5 Misery
For Your Life's Passion
---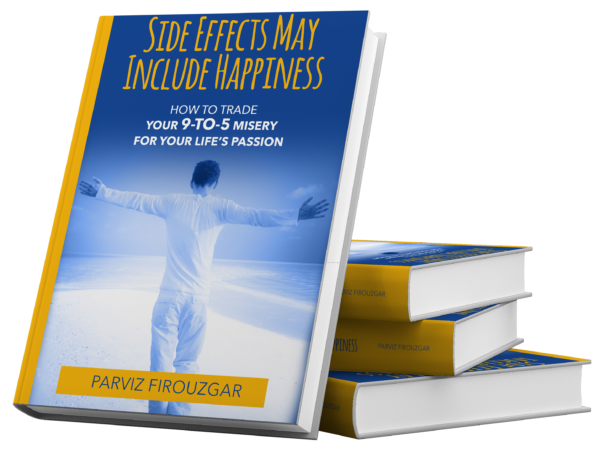 How many people do you know, including yourself, who live a 9-to-5 lifestyle and are genuinely happy?
I am referring to those who feel fulfilled, who know that they are living the life they always dreamed of, and were meant to live. I would guess you don't know many.
How about you? Are you living your purpose?
Even if you don't conclusively know what your purpose is, deep down you know whether your life turned out the way you dreamed it would.
What only a precious few people know is that everyone has the ability to do what they really love, and make a great living doing it. You can even become rich doing it. You only need to know how. Your success – in any field – can become a predetermined certainty if you learn from someone who has been there and done that.
This book contains those lessons. These are the lessons that will enable you to escape your 9-to-5 lifestyle and live your passion, your dream, and ultimately your purpose. It is the most fulfilling journey you can take.
Side effects WILL include happiness!
---
Side Effects May Include Happiness
"This is a phenomenal book and it will change many lives. Side Effects May Include Happiness should be a must read for all high school and college students. The lessons in this book will set the foundation to build a successful business. The chapter on our conscious and subconscious abilities is so powerful. The lesson on goals is amazing. I'm now also clear on my mission based on the questions Parviz asked in the chapter about motivation and the power of passion. After reading the chapter on raising capital I finally get it. Now I know how to 'attract' the money for my business. Thank you for writing this amazing book. I know it will impact many people."
– Chella Diaz
Founder of Money IQ
"Parviz is a brilliant teacher and businessman. The lessons he provides in Side Effects May Include Happiness are requirements for success in business. Not only does Parviz explain key business concepts but he also walks you through the action steps to apply them immediately to your business. This book should be required reading for all entrepreneurs."

– Nicole Carpenter
Entrepreneur & Author of "A Heart Without A Home"

"This book is an incredible read. It teaches you the right mindset and attitude to have in order to achieve your dreams and goals. I love how it breaks down how to overcome your obstacles in order to achieve success in all areas of business and your life. I have implemented these effective tips on how to overcome what is holding me back from achieving my highest potential and I am already seeing a drastic difference in my performance and major improvement in my life. I highly recommend this book to those who have big goals and are determined to reach their highest potential."
– Sarah Johnson,
Entrepreneur

"A very easy and enjoyably comprehensive read of a very important topic. It gets to the core of our creative freedoms and potential. A most definitive outline of our pursuit of happiness!"
– Bradley Warren Fox Actor,
Musician
"Still waiting until you're rich to be truly happy? What if there was a guidebook to show you how living your passion and becoming fulfilled will actually get you the money you so desire? Side Effects May Include Happiness is that guidebook, with the keys to success outlined in a quick and easy read. This book is like a modern-day Think and Grow Rich, with all the principles for happiness and success laid out right in front of you. If you're ready for happiness — and the money that can follow — read this book!"

– Jason Niedle
President, Tethos Creative Adjunct Professor, Chapman University
"After reading Parviz's new book Side Effects May Include Happiness, it is very apparent that Parviz speaks from years and years of experience being a true Entrepreneur. Following his advice and his words of wisdom will send you down a path of success no matter what business you are involved in. A must read!"

– Robb Wood
Entrepreneur

"This is the book every beginning entrepreneur NEEDS to read before starting a business. As a student who wants to become an entrepreneur, this information took the mystery and fear out of it for me. It is a quick read filled with lessons that reveal the hidden genius inside each of our passions."
– Emily Rosca
Student

"Side Effects May Include Happiness lays out the guiding principles for a successful and fulfilling entrepreneurial journey. Focusing on inherent passions and outlining the traits and habits required, all entrepreneurs will find amazing value in this book. As an aspiring entrepreneur, I will absolutely be asking myself if I'm following Parviz's principles as I make business decisions going forward."

– Andrea Repp
Rendered Nest Founder

"Each book by Parviz is full of practical tools you should be using. This is his best book so far and a MUST read for all Entrepreneurs."

– Dave Phillipson
Director of Global Operations, CEO Space