Secrets of Wealth
Discover the financial principles responsible for every fortune ever made.
Learn how you too can apply these principles step-by-step, to create your own fortune.
---
What do rich people know that you don't?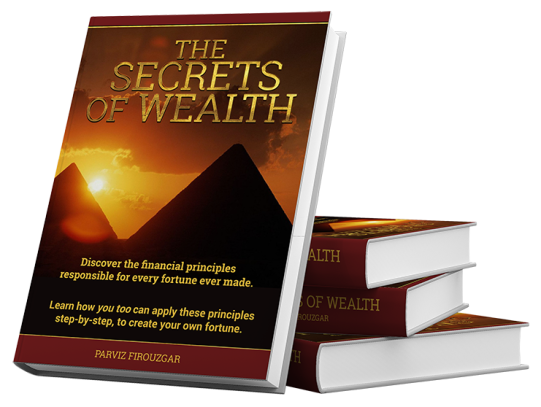 The truth is that in all methods of wealth creation there are common ingredients. These are universal principles that cause money to multiply, but precious few individuals fully understand the power they hold. Some of these principles have been around for over 5000 years, first found on clay tablets in the ancient city of Babylon.
These principles are timeless. They have financial and non-financial applications that will be around forever. You can learn to use these principles of wealth creation for your own benefit, no matter where you are in your life. They will change how you invest and how you do business.
The Secrets of Wealth will allow you to join an elite group of individuals who understand how money can be made to multiply until you are wealthy beyond your wildest dreams.
Secrets of Wealth is Available Now on Amazon.
Praise for Secrets of Wealth
"I am just speechless. As I was reading the first couple chapters I just couldn't stop thinking, "Why the heck is this not being taught in schools?" In this smart, insightful and fascinating book, Parviz gives you exactly how anyone can grow their money by using universal laws. No matter if you are earning a meager salary or are making millions, this book is a step-by-step guide as to how to multiply what you have and achieve financial freedom."
Santiago Restrepo, Entrepreneur
"The Secrets of Wealth truly delivers on its promise. I found it staggeringly pertinent and incredibly practical for anybody who has begun on their quest for a higher quality of life. Truly, if you were searching for a treasure map and ran across this book, you would have found one. I highly recommend that you read this book, and then read it again and again. Your success is practically guaranteed. I absolutely loved it and gathered more gems from these pages than any other I've ever read before!"
Vicky Prince, Success Coach
"A needed breath of fresh air amidst the collection of personal finance books. Parviz Firouzgar has assembled a priceless collection of immediately actionable strategies proven to work in growing your wealth and success. I have personally benefitted from these approaches in my own life and trust that readers will find the same."
Nick Stoianov, PhD, Developers Lead, EBay Inc.
"Parviz Firouzgar is not just a seeker; he's a finder. He has found little-known secrets of wealth which, when combined with the usual methods, may well compound the creation of wealth to higher and higher levels. This book is like a mentor-in-print about wealth creation. As the author admits, this is not original thinking but time-proven methods, in some cases dating back thousands of years. These principles and secrets are about abundance in agreement with the laws of nature, not merely the thoughts of man."
Tom Justin, Author – "How To Take No For An Answer and Still Succeed"
"The Secrets of Wealth is a MUST read for anyone that wants to change their life or help someone else change theirs! This is a modern-day Science of Getting Rich. It's not a one-time read, it's an everyday read!"
Dave Phillipson, Author & Regional Director – CEO Space
"Parviz Firouzgar has written a great follow up to his previous book 20/20 Hindsight. His new book The Secrets of Wealth is also destined to become a bestseller as it uses insights from such great minds as Archimedes and then lays out their financial principles in an easy to understand step-by-step plan.
Readers can feel confident that they too can acquire great wealth if they apply the principles explained in this book."
Stephen Kent, Entrepreneur
"There is so much I can say about Parviz Firouzgar's book and still not do it justice. There are so many wealth-building books published today, but none of them give you the mentoring navigation like The Secrets of Wealth. It provides specific details, direct examples and most importantly, this WORKS!"
B. Smith, Fmr. Federal Financial Institutions Regulator
"Once again Parviz has raised the bar on wealth and business planning literary works. The Secrets of Wealth helps to provide anyone who wants to improve their financial world a real life, down to earth perspective that will serve to de-mystify the path to true and enduring financial prosperity."
Dustin I. Nichols Esq. – The Law Office of Dustin I. Nichols, A PC
"Wow! This book has given me a whole new look at managing my financials and inspired me with numerous truths that can make my money work for me. Where the book 'The Richest Man in Babylon' leaves off, Parviz has picked up and continues with more wealth creating techniques. He illustrates why the average individual hasn't reached or achieved their full potential, what mistakes they make and how wealth and success have eluded them. Parviz even breaks down the information into simple steps that anyone who reads this scholastic manuscript may start implementing right away to gain wealth. There is so much great information in The Secrets of Wealth that I find myself going back and reading it over and over again."
Raul J. Casiano Rosado, Mortgage Broker
"The Secrets to Wealth is the ultimate template for success. It's a must-read and must-follow for anyone with any means that wants to be, and more importantly feel, rich."
Raymond F. Olmo, CEP®, RFC® – Managing Director, Trust-CFO